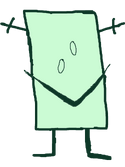 Blocky - Blocky is a Minor character that appears first in the episode "Rudy's First Adventure." He is a protagonist and friend of the main characters Snap and Rudy.
Bathtub Granny - Bathtub Granny is a neutral character who exists as a Citizen of Chalkzone in the background of many episodes.
Biclops - Originally Cyclops, Biclops is a good/neutral character who exists as the guardian of the Magic Chalk Mines. He gained the name "Biclops" after another eye was drawn on his face by Rudy.