Pumpkin Love is the seventh episode of the second season of ChalkZone.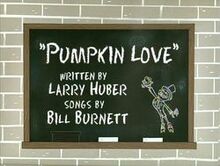 And a Halloween special.
It's Halloween in Plainsville and Rudy made a Jill-o-lantern for the school Jack-o-lantern contest. In order to get past Reggie Bullnerd to avoid having his pumpkin destroyed, Rudy goes through ChalkZone. However, before he can sneak into the contest, Snap takes Rudy to a rock concert with a few hundred ghouls where he loses his Jill-o-lantern stolen by Jacko.